Fast Facts and Travel Tips About Kayangan Lake
Did you know that out of the seven lakes in Palawan, only two are open to the public? Kayangan Lake, the unofficial postcard picture of Coron tourism, is one of them.
Located in Coron Island, Kayangan Lake is one of the most photographed areas in the entire province, with water so clear and a breathtaking backdrop of limestones and lush greens.
Kayangan Lake is the perfect destination that has a mix of adventure, romance, and relaxation in one place.
Here's why:
1. The cleanest lake in the Philippines
Dubbed as the cleanest lake in the country (and even the cleanest in Asia!), it's no surprise that tourists flock this area all the time.
Kayangan Lake is an estuary where the saltwater from the Coron Bay meets the fresh water of the lake itself. As an estuary, the lake is partially enclosed, but with free access to the open sea (or in this case, Coron Bay).
This unique arrangement is what makes the water composition quite interesting. It is mainly brackish—a mixture of 70% freshwater and 30% seawater. Swimming here, you'll realize that it is saltier than freshwater, but not as salty as seawater.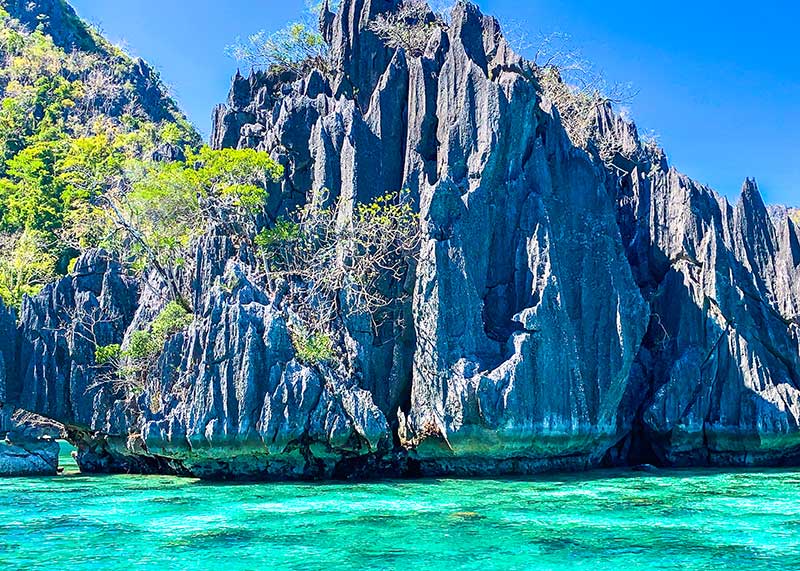 2. Huge limestone formations
Towering limestone karts are perhaps the hallmark of Coron Island, and you'll see curtains of these in Kayangan Lake.
Limestone is mainly calcium carbonate, which crystallizes and saturates the lake. The resulting dispersion of these very tiny crystals is what gives the lake its striking turquoise color.
Did you know that the natives of Coron, the Tagbanua tribesmen, have exclusive rights over Kayangan Lake as part of their ancestral domain, along with other sites? As mentioned, only 2 lakes are open to the public because the rest are sacred and guarded.
As guardians of these natural territories, you may chance upon some Tagbanua who occasionally drop by at Kayangan Lake.
Tip: You can snap a quick selfie with a Tagbanua while you're at it. This gives a whole new meaning to your trip.
3. Sunset at the viewpoint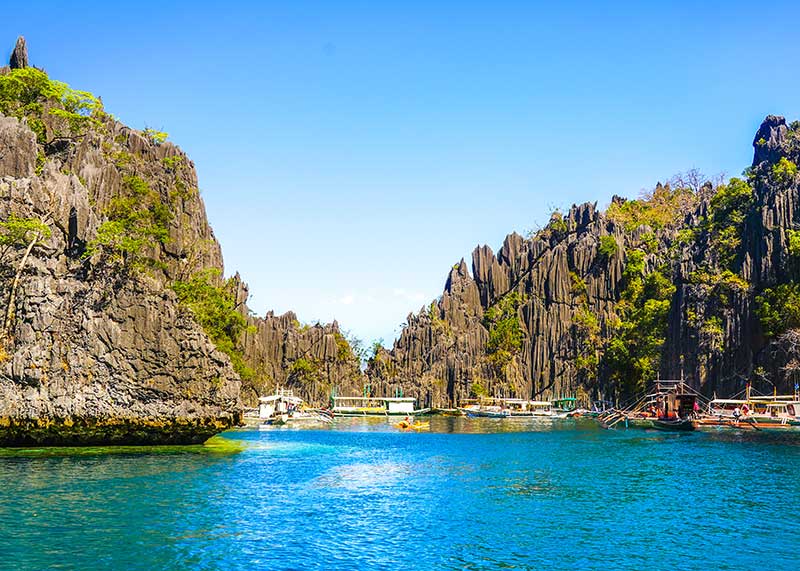 The viewpoint is an iconic stopover on your way up (then down) to Kayangan Lake.
Depending on your pace, expect a 15-minute ascent to reach a rustic wooden deck overlooking Coron Bay. This is approximately 300 steps.
Take a few moments to appreciate the spectacular view of the island. The scenery is very romantic and sets the mood for a relaxing swim in Kayangan Lake.
Because the water is so clear, you can see the limestone cliffs continue down underwater. It sure looks different from the bird's eye point of view!
Tip: Come in late in the afternoon, and view the sunset at the viewpoint. There aren't as many people as during the day.
Finally, expect a sharp descent to reach Kayangan lake itself.
4. Amazing underwater 'moonscape'
Looking for something different to see? Kayangan Lake is an interesting place to snorkel.
Since the water is almost transparent, you can expect really good visibility. Underwater visibility extends to at least 80 feet (24 meters), making it a great place for water activities like snorkeling and diving.
As high as they appear, the limestone formations go all the way down underwater. The fact that you can check out how it looks like beneath the water is what makes it so mysterious and enticing.
You'll see a lot of big ragged rocks, which makes the entire scene very cathedral-like, eerie, but beautiful nonetheless. It feels like you're walking (or swimming) on the moon!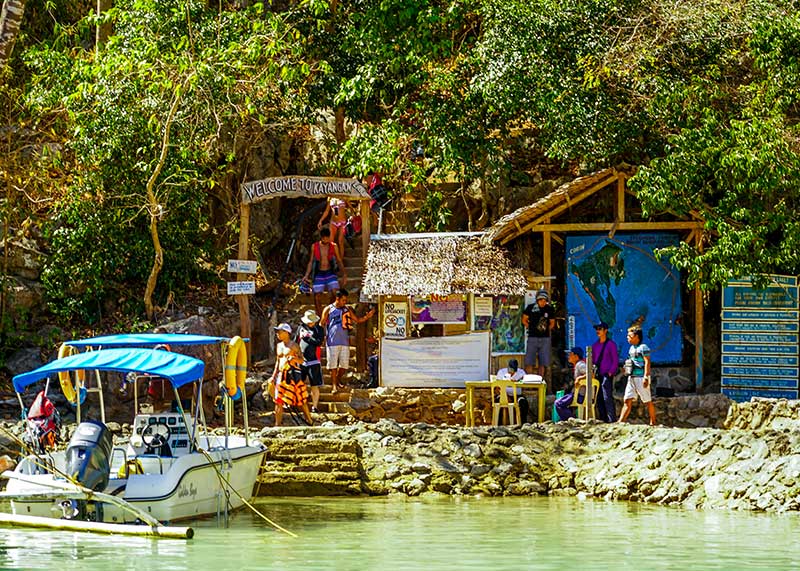 5. Swimming with mini barracudas
You'll see mostly crabs and snails in Kayangan Lake. Because of the brackish water, you won't see fish species as diverse as that of the sea.
Nevertheless, the lake is vastly populated with an interesting species called needlefish or miniature barracudas. Needlefish have a high tolerance to different levels of water salinity, so they have adapted very well to the brackish water.
This explains why, to date, it is perhaps the only obvious fish species you can see while snorkeling at Kayangan Lake.
But what's great about needlefish is that they tend to swim beside you. If you're lucky, you may even get to swim alongside an entire school of them!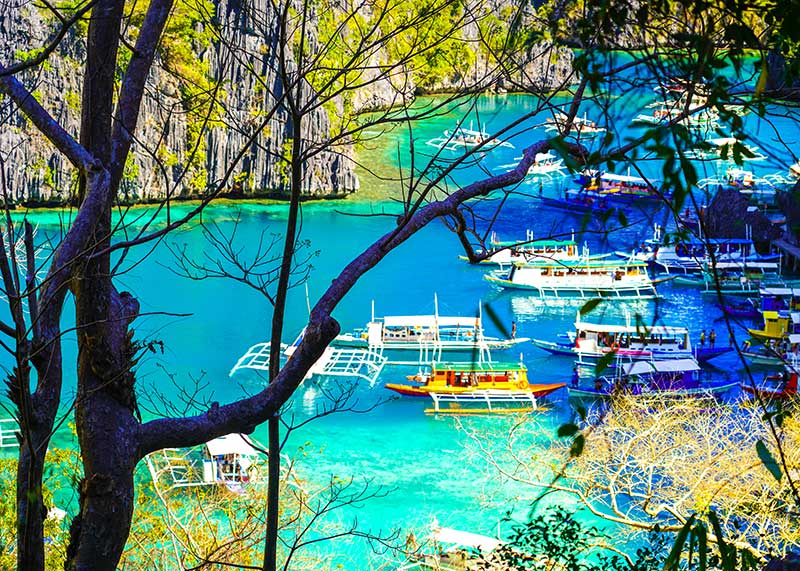 6. Be Awed by Awuyuk Cave
If you're in for a short adventure while at Kayangan Lake, you can make a quick side trip to a nearby interesting place.
At the left of the lake is Awuyuk Cave, a small cavern that's not frequently visited. Best done with a guide, you can enter the cave by swimming for 10 meters.
While swimming, some areas may be pitch black. Do look back out towards the light glaring from the inside of the cave, which is a beautiful sight.
To visit Kayangan Lake, you can either join a tour package or arrange a private tour. You will take a pump boat from Coron Town harbor to Coron Island.

Come early in the morning or late in the afternoon to avoid the crowd.

Wear appropriate footwear for hiking.

Pack light and bring only what's needed. There's a tiny wooden platform and walkway where you can stash your things while swimming. 

Lifejackets are now required for safety purposes.

Practice proper waste disposal.
Kayangan Lake is iconic in its own right. We're lucky that it's made open for the public, so the world can see how beautiful it is. That said, let's not forget to keep it clean as how the indigenious Tagbanuas keep it.
The entire place is romantic, picture-perfect, and brings very positive vibes. By the time you leave Kayangan Lake, you'll begin to wonder why you've never thought of visiting it before.