The Twin Lagoons: Awesome Facts and Helpful Tips
The Twin Lagoons are exactly what they are—a pair of mesmerizing blue-green lagoons separated by a gigantic limestone wall.
Another beloved landmark of Palawan postcards, this natural attraction is found in Coron Island. This place has been around for some time, and it's gaining more visitors as we speak.
Coron was once unheard of, except for being a small fishing village since the 1940s. But even then, it had a very charming and laid-back vibe. Gradually, tourists started visiting the island and discovered the Twin Lagoons. With growing media exposure in the last decade, it has cemented itself as a key player in Palawan's tourism industry.
Visiting the Twin Lagoons is a surprisingly fun adventure. Let's see what makes them so special, and why you should add this destination to your travel bucket list:
Even though the name 'Twin Lagoons' pretty much says what they are, many tourists first think of them as lakes, or at least subconsciously. Perhaps this is because of its close association to Kayangan Lake and Barracuda Lake, both also located in Coron Island.
A lake is a body of water that is mostly freshwater. Kayangan Lake, for instance, is 70% freshwater and 30% seawater. It is usually still or slow-moving.
A lagoon is a body of water, and while it looks like a lake, it is mostly seawater because it is situated near a coastal area. The Twin Lagoons, compared to Kayangan Lake, is closer to Coron Bay, where it receives more seawater.
Because of its proximity to the sea, the Twin Lagoons are also influenced by tide levels. You can expect the water to be shallow or deep depending on the tide.
A paradise within a paradise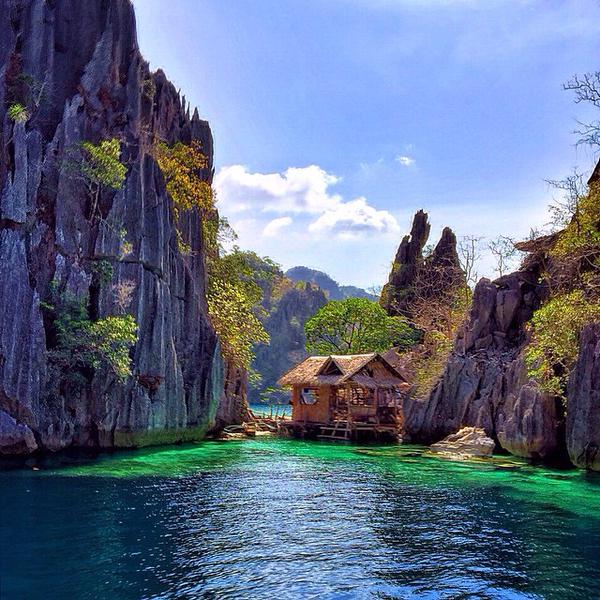 The first lagoon is where all the pump boats are docked. As for the second lagoon, you won't get to see it just yet—at least not until you get past the first.
That's right—the second lagoon is a hidden place, obscured by thick, limestone landscapes. The outer lagoon is spectacular in its own right, but discovering the inner lagoon is like uncovering a secret paradise within a paradise.
The most interesting part? Since we mentioned that the water is affected by tidal levels, reaching the second lagoon depends on how deep or shallow the water is.
That's because during high tide, the second lagoon is only accessible by climbing up a wooden ladder. During low tide, you can either swim or kayak under a small tunnel-like entrance, which is only visible when the water becomes shallow. The latter, of course, is the more adventurous route.
The quick journey from the first to the second lagoon, and the thrill of swimming under a narrow crevice, is what makes it an extraordinary adventure.
Since the Twin Lagoons are situated close to Coron Bay, the water is brackish. This means that the seawater from the Coron Bay mixes into the freshwater of the lagoons itself.
The outer lagoon has a higher water salinity because it is closer to the sea. In contrast, the inner lagoon has more freshwater.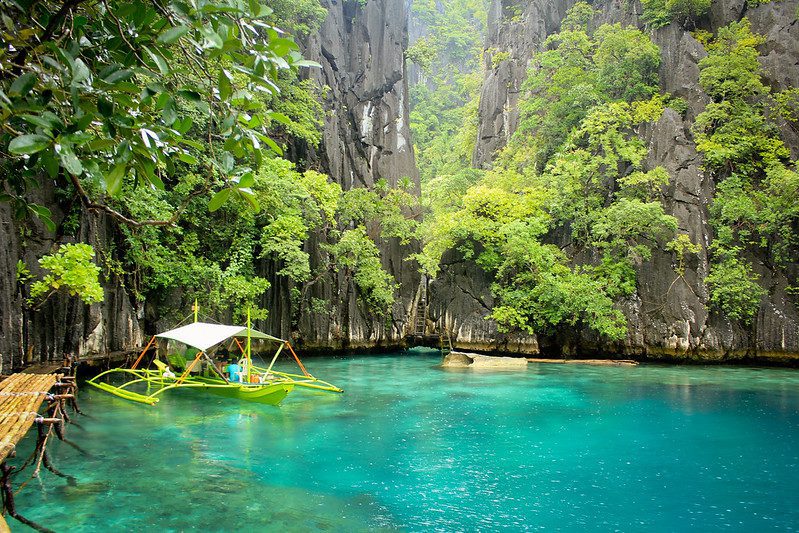 Experience the thermocline
Which brings us to an astonishing fact that many tourists discover—the water can 'behave' rather peculiarly!
You'll feel like you're swimming in a landscape of varying temperatures and clarity.
In the lagoon, you'll feel that the water is really cold—but swim deeper and you'll feel it warm.
This phenomenon, called a thermocline, is a water layer with a steep temperature gradient. This is the point where the seawater and freshwater mix, which is not uncommon in brackish water.
You'll also see the thermocline if you don your goggles and dive deeper. You'll first notice that the water is crystal clear, then it can appear blurry—like oil on water.
Somehow, there's a point where the seawater and freshwater converge, hence the fluctuating temperature. The thermocline is obviously nothing to worry about, but definitely good to know!
Did you know that the limestones that embrace the lagoons are part of the much larger Calis Mountain, an enormous limestone formation that spans the entirety of Coron Island?
While forests have populated the limestone karsts, the nearby bodies of water make the entire environment more ecologically complex.
But did you also know that the limestones surrounding the Twin Lagoons (and all of Coron Island) date back to the Permian period, which goes way before Jurassic origins?
This makes the limestone structures over 300 million years old. With structures this ancient, it's no surprise that they have become a natural habitat for such diverse wildlife!
Some of the species that live in the Twin Lagoons are clownfish and jellyfish. You'll also see very tiny fish that look like bait for predators, perhaps sea anemones—the ravenous marine animals that look like plants, an insidious trait that makes them cunning hunters.
Some tourists also report that somewhere in the lagoon are small fish that nip, which local guides explain are territorial fish.
All these creatures thrive well in brackish water with fluctuating temperatures, so they can migrate from the lagoon to the sea and vice-versa.
In shallow areas of the outer lagoon, there are live corals and rocky reefs. At a closer look, you'll see that these are remnants of a much bigger reef system that once thrived.
You can also see snails, beetles, centipedes, crickets, and crabs crawling atop the jagged edges of limestones, but you probably won't see most of these underwater as they are quite small.
Tip: Consider wearing a rashguard. There are more jellyfish than usual during the summer months (March to May). Better yet, you can plan your holiday before or after summer.
Swimming, photography, and more
Water activities are so fun to do at the Twin Lagoons.
You can go for a relaxing swim, put on your fins and goggles, or ride a kayak to explore the lagoons from end to end.
The Twin Lagoons are also a must in any travel photographer's bucket list. So if you're into drone photography—look no further. You'll get photos that need little to no editing at all.
When viewed from above, the Twin Lagoons have the most remarkable geological features on the entire island. They are fascinating structures, and each formation seems like it has its own story to tell.
See the huge blue pools formed by limestone karsts? They're almost perfect circles of cerulean water. Meanwhile, the shallow, sandy reefs that surround these deep waters are home to diverse marine wildlife.
With natural sunlight and vivid colors, the pictures will look like they were taken straight out of a postcard. The place is so picture-perfect, you'll be itching to add your photos directly to your Instagram feed.
How to Get to the Twin Lagoons
The Twin Lagoons are open to visitors from 8:00 AM to 6:00 PM.
From the port at Coron Town, take a boat to get to the Twin Lagoons (25-30 minutes).
Alternatively, you can go to Kayangan Lake first. From here, you can ride on the boat to the Twin Lagoons (5-10 minutes). Some tourists prefer this path.
Coordinate with your guide or provider to include both the Twin Lagoons and Kayangan Lake in your island hopping tour. You can arrange for a private tour, too.

Go early in the morning to avoid the crowd. The Twin Lagoons are a popular stop-over for lunch, so it can get crowded at midday.

Wear a life vest when swimming, snorkeling, or kayaking.
Even though the Twin Lagoons are famous, you probably won't get over the fact that there's something this scenic hidden on a small island.
While some raise eyebrows against the Twin Lagoons being open to the public (like the local tribespeople, who technically own the entire area as their ancestral domain), let's make sure we keep their home clean.
For what it's worth, the Twin Lagoons will surely quench your wanderlust. It's romantic, glorious, and can surprise you in bizarre ways (just think of the water's changing temperature!). It is indeed a destination worth visiting.