Kawasan Falls (in Cebu): The Most Beautiful Waterfall in the Philippines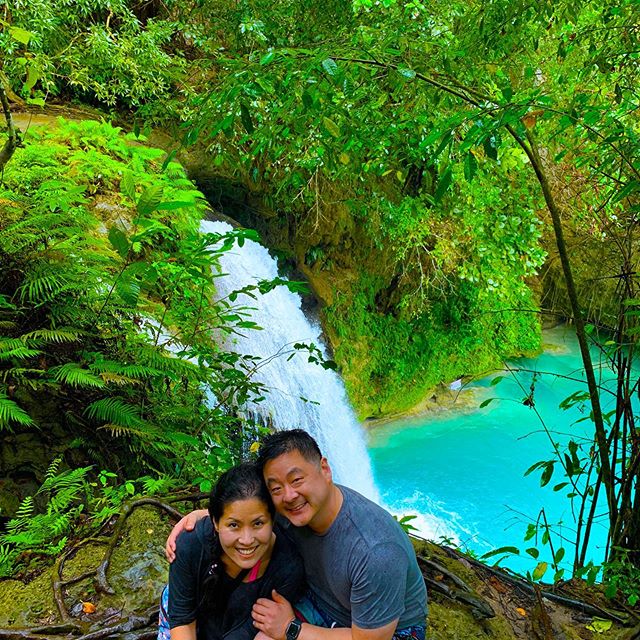 Kawasan Falls is a stunning place tucked in the southwest of Cebu. As cold as its waters are, it's a hot tourist spot that remains to be on everyone's bucket list.
Over the years, Kawasan Falls has gained several distinctions, like being the 'most beautiful waterfalls' and having the cleanest water in the Philippines.
These awards have led it to be the 'face' of Cebu tourism. You see Kawasan Falls in postcards, magazine covers, TV shows—and for very good reasons indeed.
Kawasan Falls at a Glance
Located at Barangay Matutinao in the humble town of Badian, the journey to the waterfalls is about 3 to 4 hours.
The most photographed view is the waterfall that's over 40 meters high. This is also where most people stay, swim, and eat, with the waterfall as the main backdrop.
But there's more to Kawasan than this 40-meter waterfall.
By exploring a bit more, you'll see that there are a total of 3 waterfalls in the area—with so many Instagrammable spots!
Kawasan is a trio of charming waterfalls that cascade into crystal-clear rivers and lagoons, so the entire place is very inviting indeed.
You will have to hike to get around. Expect jungle-like trails, rocky rivers, and some wild animals (if you're lucky). Overall, the walk to the waterfalls is enjoyable in itself!
The great thing about Kawasan is that you can explore it in less than a day.
Depending on your pace, you have to hike for about 15-20 minutes from the town proper to the base of the first waterfall. As you walk, you'll see thin streams of water driven by a strong current, which eventually grows bigger as you get deeper into the forest.
The hike builds excitement. The larger and deeper the rivers become, the closer you are to the first waterfall.
Once you get there, you'll see that the first waterfall is also the most popular, surrounded by larger-than-life rocks and lush trees.  Here, you'll appreciate just how clean the water is. Swimming here is so refreshing, you'll forget that you're in a tropical country!
Many tourists stop at the first waterfall. But if you're up for the challenge, you can certainly take a good look around.
The trek to the second waterfall is a more challenging, uphill climb that will take about 10-15 minutes. The second waterfall may be smaller, but it's quieter and more romantic.
To get to the third and final waterfall, expect another uphill and more challenging trail for about 20 minutes. This is more secluded, rarely visited by tourists, and with mostly locals going about their daily lives.
The third waterfall is not far from the highest accessible point, which is where the source of the entire Kawasan Falls is located. Known as Kabukalan or "The Source", the freshwater flows from a small cave where it gradually drops.
Swimming
As mentioned, swimming at Kawasan Falls is a very relaxing and cool experience. The water is in a gorgeous shade of blue-green, it would be hard to resist it.
There's an interesting reason behind this dazzling turquoise color though. As a coral island, Cebu is predominantly made of limestone minerals. Limestone seeps crystals into the water, which gives it the distinct turquoise gradient we all adore.
Tip: Several areas in the waterfall can be pretty deep, so it's best to rent a lifejacket on-site.
Must-try: Wearing your lifejacket, swim as near as you can to the first waterfall. Stay just right under where the water drops! Think of the pressure from the water as a quick massage on the head and arms as you wade through the small cave.
Lunch
There's nothing more romantic than eating lunch with a beautiful waterfall as the main scenery. It's best to bring your own food and beverages.
From the town proper, however, you can find small convenience shops, souvenirs, and picnic huts (called eateries) as you trek to the first waterfall.
Trekking
You'll hike on rocky and slippery trails. You'll cross through shallow fords. You'll walk on bamboo bridges.
The trekking part may not be a highlight, but it's another aspect that makes the entire experience more memorable.
Tip: Bring appropriate gear, such as anti-slip footwear.
Cliff jumping
How does jumping from the top of a 40-foot waterfall sound? It's exhilarating and a little terrifying, but definitely an experience of a lifetime.
You can't do this on your own though. You have to be part of a canyoneering tour, as cliff-jumping should be strictly supervised by a tour guide.
Canyoneering
Now that we've mentioned it, Badian has been recently known for its canyoneering activity.
You get to explore canyons, rivers, and lagoons through rappelling, jumping, and swimming. It's an awesome activity, saving Kawasan Falls as the best for last. It's the final stop of the entire tour, culminating in one thrilling 40-meter jump from the top edge of the waterfall.
You end the tour with a relaxing dip, which is timely as the sun begins to set. Along with the gush of the water, this gives you a lovely romantic vibe to end the tiring day.
From Cebu City, you can take any bus bound for Bato via Barili and hop off at Matutinao, Badian. If you're in Moalboal (where a lot of expats and foreign tourists stay), Kawasan Falls is a popular side-trip that's only 45 minutes away.
There's something about waterfalls that makes us feel inexplicably cheerful.
Waterfalls are abundant in negative ions, which are said to promote happy hormones, hence relieving stress. The sound of the water gushing is also a kind of 'white noise', which aids sleep.
Watch a Short Video of our Trip
Please like and subscribe to our new YouTube channel, and comment if you have any questions for us. We'd love to hear your feedback on how you like our travels or if you have ideas we missed!
With all these, we can say that Kawasan Falls is an absolute wonder, and well worth the long trip. Let us know how your Kawasan experience goes for you!