The Ultimate Palawan Travel Guide: Exploring Puerto Princesa, El Nido, Linapacan & Coron
On July 2019, Travel + Leisure magazine announced The 15 Best Islands in the World, with Palawan claiming the No.2 spot.
The results are based on T+L readers' feedback, emphasizing natural sights, attractions, beaches, activities, food, friendliness, and overall worth.
Palawan has been consistently on the list for so many years as one of the best islands in the world—and that's saying something.
Let's see what makes Palawan extra special, and where exactly you should go: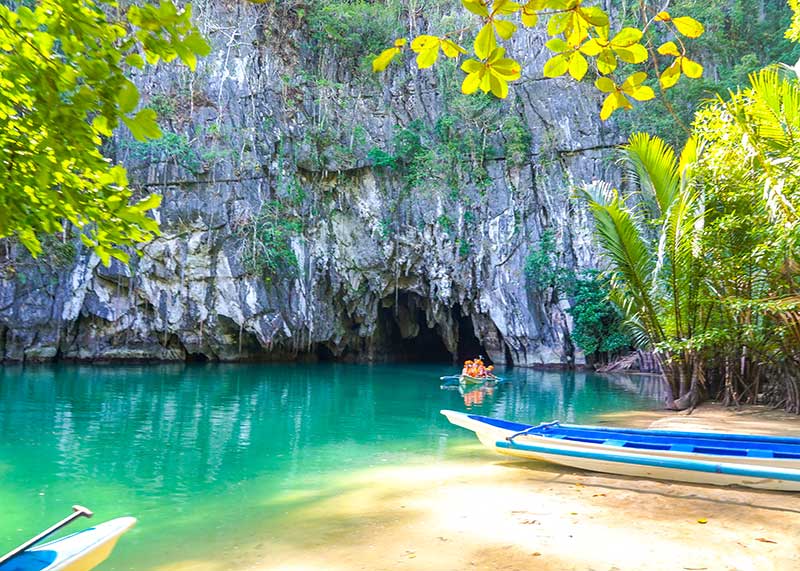 The capital of Palawan, Puerto Princesa holds the distinction as the greenest and cleanest city in the Philippines.
You can get here by taking any direct flight to Puerto Princesa International Airport. There are international flights to/from Incheon and Taipei, as well as several domestic flights to/from Manila, Cebu, Clark, Davao, and other provinces.
Puerto Princesa is also a notable gateway to other popular destinations in Palawan like El Nido and Coron.
What to Do in Puerto Princesa
Before you head off to your next destination, we've rounded up the top activities in Puerto Princesa:
Tour the Underground River
Simply called the Underground River, it is officially known as the Puerto Princesa Subterranean River National Park.
Before El Nido and Coron became tourist favorites, the Underground River in Puerto Princesa catapulted Palawan to international recognition. And it continues to amaze tourists to this day.
It is such an extraordinary area—so extraordinary that it is proclaimed as a UNESCO World Heritage Site and a New7Wonder.
Tip: If you still have extra time to spare, there are some nearby attractions worth seeing. Try the Sabag X Zipline, Mangrove Paddle Tour, or the Ugong Rock Caves.
Dive at Tubbataha Reef
Officially the Tubbataha Reefs National Park, it is the Philippine's first protected marine area. Like the Underground River, it is an acclaimed UNESCO World Heritage Site.
But unlike the Underground River, it is a very secluded area. Part of the reason it was named a World Heritage Site is because of the very high density of marine life. Armed rangers guard the reefs 24/7 against illegal fishing and poaching.
The Tubbataha Reef is a 10-hour boat ride from Puerto Princesa. Boat schedules are overseen by the local government.
Tip: If you have the luxury of time and money when in Palawan, you won't regret visiting Tubbataha Reef. Go here during the diving season (March – June) when the sky and sea are clearest.
Because it's secluded and highly protected, getting here is only available via a liveaboard boat, where you literally 'live aboard'. Be ready to spend around P15,000 / $300 a night on the liveaboard. Again, this is optional if you have enough time and budget.
But the fun doesn't end in this city. Stepping to Puerto Princesa is like entering a portal, as it's your ticket to other fantastic places in entire Palawan.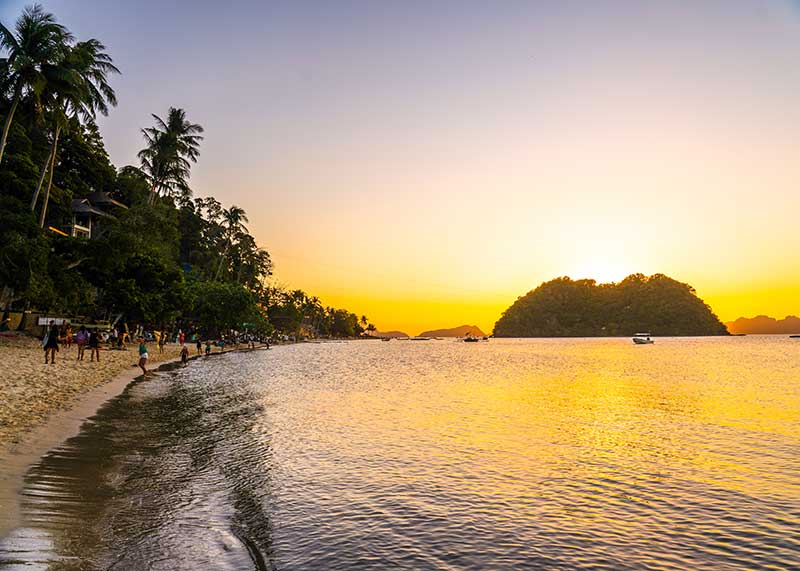 Nestled at the northernmost area of Palawan is a paradise worth visiting: El Nido. Getting here is like entering a place that you normally see in postcards—but even photographs don't do it justice.
To get to El Nido, take the shuttle van At the Sabang intersection (near the Underground River in Sabang, Puerto Princesa).
Tip: It's a long ride—around 6 hours on average. You can take the shuttle van right after your Underground River tour.
What to Do in El Nido
In El Nido, the activities are centered around nature. Expect to see breathtaking sights—seas, cliffs, lagoons, and limestones in one place.
El Nido tours are varied yet organized. Tour packages are generally classified as Tour A, B, C, D. You can do two tour packages in one day, depending on the activities included.
Make sure these are included in your tour package:
Hop around Bacuit Bay
Go island hopping! El Nido is more than just beaches. Ride a pump boat and enjoy the breathtaking view of all 45 islands in Bacuit Bay. You have to see the limestone cliffs and exotic animals while you're here.
Kayak at Cadlao Island
Paddle away to appreciate the magnificent limestone karsts that tower above you. Get a clear kayak to make the experience more surreal.
Hike at Mount Taraw
Climb to Taraw Cliff, the highest peak in El Nido. Take as many photos as you can, the view here is just as captivating as when you're down at the beach.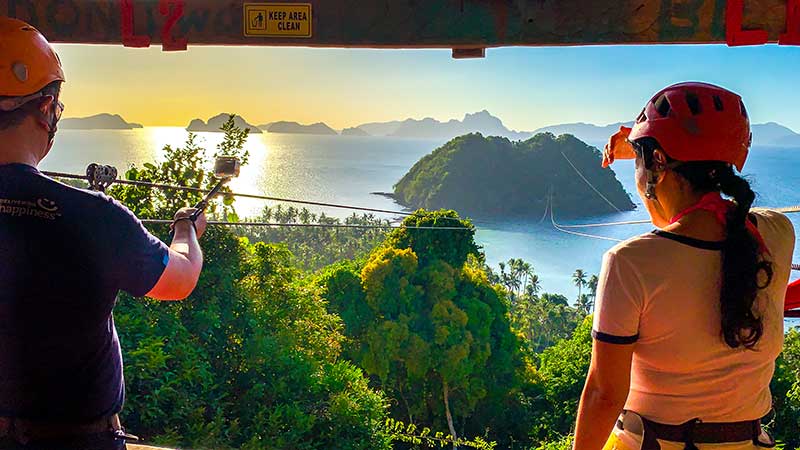 Zipline at Las Cabanas
Walk to the starting point of the zipline at Las Cabanas Beach (Tip: wear proper walking shoes!). Riding the zipline, you'll see how beautiful El Nido is in bird's eye view.
Watch the sunset by the beach
The most romantic places to watch the sunset are Las Cabanas Beach and Corong Corong Beach. Whether you're traveling solo or with a loved one, watching the sunset is the perfect activity to wrap up your El Nido tour.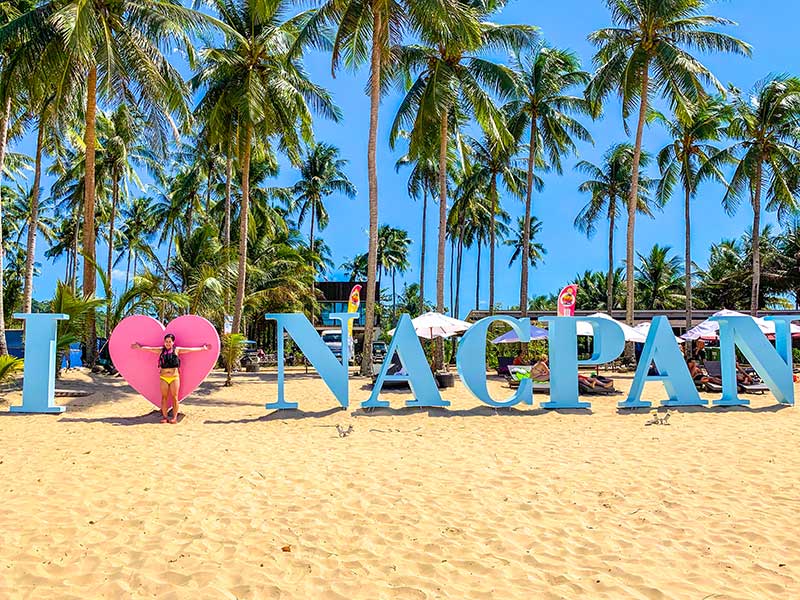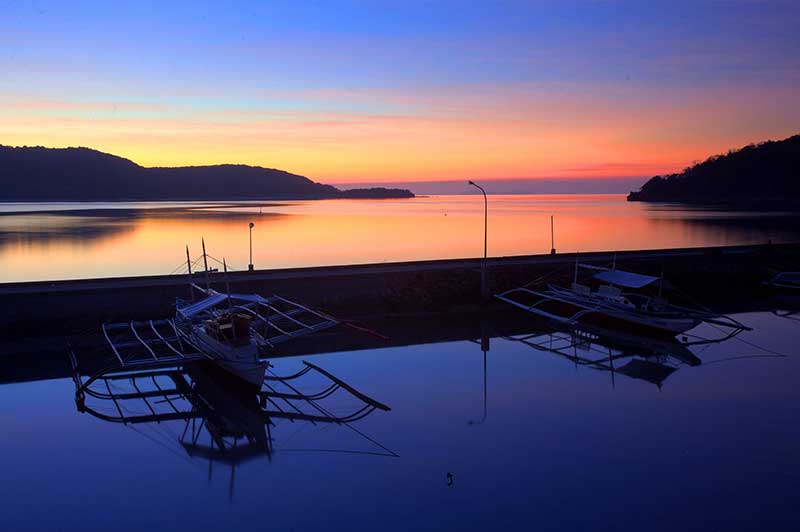 After El Nido, the common route is sailing to Busuanga, where the popular town of Coron is located.
But if you have a few more days to spare, perhaps you can stop by Linapacan Island? This is a quiet island that's just right in between El Nido and Coron, so it makes sense that you stop by Linapacan first before heading further north.
Unlike El Nido and Coron, Linapacan is less popular—but it's not disappointing at all. It's a virtually untouched paradise, with waters hailed as the 'clearest to swim in worldwide'.
To get to Linapacan Island, simply take the boat from the port in San Fernando, El Nido.
What to Do in Linapacan Island
The activities in Linapacan are more laid-back:
Camp at Ginto Island
Technically an island-hopping activity, you get to explore different islands within Linapacan area for a few days. With Ginto Island as the base, it feels like you have the entire island to yourself without sacrificing the comfort of home.
Snorkel at Manlegad Island
Located within Linapacan's crystal-clear waters, you won't regret getting here to snorkel, dive, or take underwater photos. It's a massive snorkeling site with so much marine diversity—you'll feel like it's an endless maze!
Spelunk at Eli Cave
Located in San Miguel town, the limestone pillars make Eli Cave a distinct destination. You can also check out the interesting shipwreck just off the coast. It's hard not to fall in love with this place.
If you don't have much time to make a stop-over to Linapacan, no worries—you can always visit next time.
What's left to do is sail to Palawan's next paradise.
Arguably one of the most photographed places in the Philippines, you cannot skip Busuanga Island when you're in Palawan.
Ironically, most tourists refer to Busuanga Island as Coron in general.
Technically, Busuanga Island comprises of two municipalities:
Municipality of Busuanga (where the Busuanga International Airport is located)
Municipality of Coron (which has control over Coron Island, and is not to be confused with the municipality itself)
To get to Coron, simply take a ferry from El Nido or Linapacan.
What to Do in Coron
You'll disembark at Coron Port. Take note that this is not Coron Island yet. While you're at the mainland, you can do a number of leisurely activities.
Coron Proper/Mainland
Climb to Mount Tapyas
How does the idea of standing 700 feet above sea level sound—where the island is in full view from the top? As the second tallest mountain in Coron, hiking 723 steps to the summit will be one of your most memorable climbs indeed.
Boodle Fight
You can't miss food-tripping in Coron. In American soldier slang, 'boodle' refers to contraband sweets, but Filipinos have put an entirely different meaning to it. A boodle fight is basically a meal laid out in a long table covered. Instead of plates and cutlery, different kinds of Filipino food are spread out on banana leaves as you eat with your bare hands. You can try the boodle fight at large restaurants.
Relax at Maquinit Springs
After your Mount Tapyas climb, it's customary to end the day at Maquinit Springs. It's actually a saltwater hot spring with a tiny waterfall which is said to be powered by volcanic activity. While relaxing aching muscles in a warm pool, you can watch the sunset over the sea.
The fun doesn't end here! There's still one last paradise you can't afford to miss: Coron Island and the activities you should do.
Coron Island
Swim at Kayangan Lake
Coron Island's best attraction. Swim in the clearest lake in the Philippines and get the best view of Coron Bay. You can swim, dive, snorkel, or ride a raft along Kayangan Lake.
Explore the Twin Lagoons
A tourist favorite, and for a good reason. The twin lagoons are two separate bodies of brackish water (mixture of saltwater and freshwater), divided only by a tall wall of limestone karst. The second lagoon is particularly interesting. You enter the second lagoon by swimming through a narrow hole visible only during low tide.
Shipwreck diving at Coron Bay
Coron is very famous for shipwreck diving. A dozen old shipwrecks lie at the bottom of the sea, which makes the experience eerily mystical. These are remnants of the Japanese fleet that the US Navy attacked in the 1940s.
We always recommend Coron to be the last stop since the Busuanga International Airport is just an hour away from Coron Island. In this way, you can catch your flight at Busuanga instead of traveling back to Puerto Princesa.
But while you're in Busuanga with a few more days to spare, you might as well try these activities before finally going home:
Dive with Dugongs
Also known as sea cows, dugongs are the only herbivores of the marine world. The local guides of the Dugong Dive Center are pretty skilled at spotting dugongs. Hailed as 'mermaids of the sea', they're fascinating creatures—yet sadly an endangered species.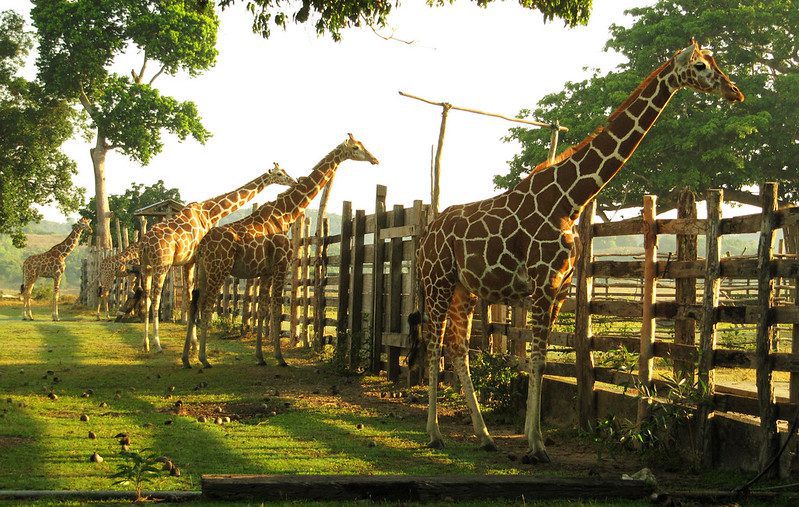 Visit the Calauit Safari Sanctuary
This is an awesome activity for kids and families! This wildlife sanctuary was founded in the 1970s by order of the Philippine government. This was in response to the call of the President of Kenya to preserve the African wildlife drastically affected by drought and strife. The animals brought in have since survived and thrived well to the Calauit climate. Here, you'll see zebras and giraffes, as well as local animals like the Calamian deer, Palawan bearded pig, Philippine mouse-deer, and many others.
Pack light, but don't skip the important stuff (medicines, sunblock, insect repellant, water bottle).
Bring walking shoes.
Always bring a light snack. Many of the connecting rides (by land and boat) are quite long.
Always bring cash in Philippine Peso.
Check the weather when planning your itinerary. Best to go during the dry season (February to May).
Book with a tour agency for convenience, especially if you only have about 2-3 weeks. Visiting Palawan will entail a lot of traveling by land and sea.
Here's a rundown of your itinerary and suggested activities (assuming you've booked all tours and transfers):
Day 1-3: Puerto Princesa
Arrive at Puerto Princesa International Airport.
Check-in at hotel.
Join the Underground River Tour.
Visit Ugong Rock Caves, Sabang X Zipline, or Mangrove Paddle Tour (if desired)
Sail for Tubbataha Reef (if you have the time; this may be done before theUnderground River Tour)
Leave for El Nido.
Day 4-7: El-Nido
Check-in at El Nido resort.
Go island-hopping around Bacuit Bay.
Kayak around Cadlao Island.
Hike to Taraw Cliff.
Zipline at Las Cabanas.
Watch the sunset at Las Cabanas Beach.
Leave for Linapacan (or Coron).
Day 8-10: Linapacan (optional, only if you have plenty of time; otherwise, you can skip this)
Check-in at Ginto Island (or your accommodation of choice).
Snorkel at Manlegad Island.
Explore the Eli Cave.
Stroll along the beaches and watch the sunset.
Leave for Coron.
Day 11-15: Coron
CORON PROPER:
Check-in at hotel.
Hike to Mount Tapyas.
Try the boodle fight.
Explore the local town.
Go to Maquinit Springs.
CORON ISLAND:
Sails to Coron Island
Check-in at resort.
Visit the Kayangan Lake.
Swim at the Twin Lagoons.
Go shipwreck diving.
Day 16-17:
Going home
Head back to Coron proper.
Go to Busuanga Airport. Take the connecting flights.
There's a lot to see in Palawan indeed. Puerto Princesa alone is your ticket to other breathtaking destinations: El Nido, Linapacan, and Coron.
As if the plethora of Instagrammable places isn't enough (think beaches, sunsets, and lagoons), the delicious food, interesting culture, and the rich ecosystem diversity are yours to experience, too.
If you had enough time, where exactly in Palawan would you stay the longest? Let us know!