Puerto Princesa (PPS): Your Portal to the Underground River, El Nido, and Coron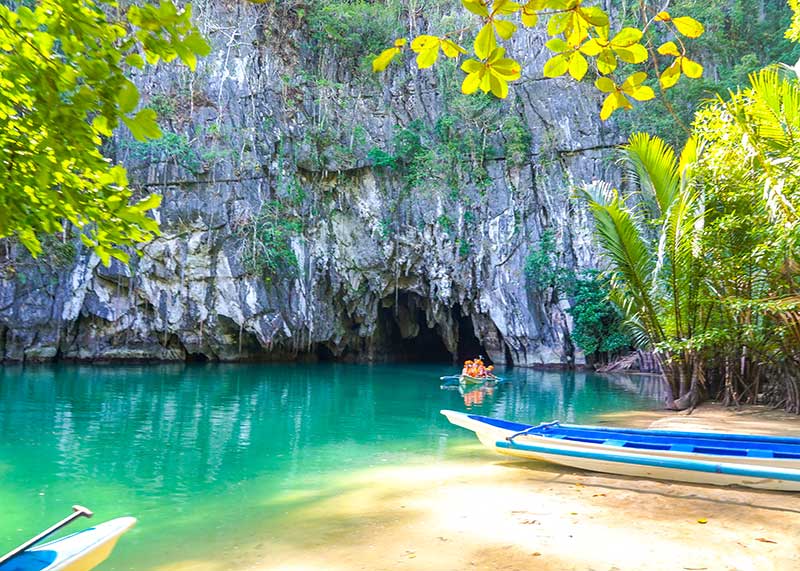 Puerto Princesa, the capital of Palawan island, is a multi-awarded city in the tourism sector. Recently, it received the 'Excellent Hall of Famer' awarded by no less than the largest social travel website, Tripadvisor.
This distinction is particularly directed to the best attraction in the capital: the Puerto Princesa Underground River.
But the city, in itself, is different from other cities in the country—urbanized yet somewhat laidback, but still highly biodiverse.
Other than the renowned Underground River, Puerto Princesa has a lot more to offer for any traveler.
Let's explore some of Puerto Princesa's best-kept secrets, and why you should include them in your itinerary:
Puerto Princesa: Gateway to El Nido and Coron
Palawan is the fifth biggest island in the Philippines, situated between the South China Sea and the Sulu Sea. It's also the largest elongated island in the entire archipelago, and Puerto Princesa is right in the middle of it.
One of the best things about Puerto Princesa is that it's an instant portal to more breathtaking destinations on the island, notably El Nido and Coron.
Since El Nido and Coron are more remote, we suggest getting here from Puerto Princesa to maximize your holiday (particularly if you only have a week or two to spare).
Those who've been to El Nido say that it's worth the long trip from Puerto Princesa
An archipelago of its own, El Nido has 45 islands! You'll see crystal clear waters, white-sand beaches with underwater coral gardens, turrets of limestone cliffs, green mountains, captivating lagoons, and enchanting caves. It's every nature lover's dream destination.
El Nido is like a scenery taken straight from a movie. You won't really appreciate its beauty unless you see it for yourself. 
Another natural gem of Palawan is Coron. It is one of the two municipalities that make up Busuanga Island, the other one named after the island itself—Busuanga (where the Busuanga International Airport is located).
Going further east, you'll reach Coron Island, another popular tourist destination. While it is part of the municipality of the same name, it is a separate entity from the mainland.
Like El Nido, Coron has diverse flora and fauna. You'll see fine white-sand beaches, limestone cliffs, mangrove forests, and stunning lakes—particularly the Kayangan Lake, hailed as the cleanest lake in the Philippines.
Coron is famous for wreck diving, with 12 magnificent and well-preserved shipwrecks that are remnants of World War II. in 1944 when the Philippines was under US rule, a bold raid by the US Navy resulted in the sinking of the entire invading Japanese fleet hiding in Coron harbor.
Other than shipwreck diving, Coron is also a popular destination for snorkeling and deep-sea fishing.
How to Get to Puerto Princesa
Puerto Princesa is the commercial hub of Palawan.
The Puerto Princesa International Airport (PPS) services several domestic flights (to/from Manila, Clark, Cebu, and Davao) and a few international flights (to/from Incheon and Taipei).
For tourists, we highly recommend getting around by tourist van for convenience. Most hotels also offer airport pickup and dropoff services.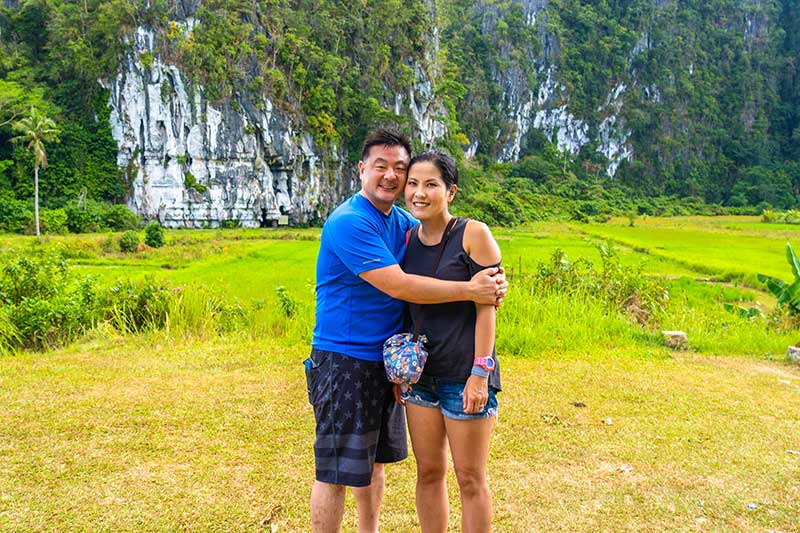 Where to Stay in Puerto Princesa
Here are some of the best hotels in the city:
Canvas Boutique Hotel (starts at P3,000 / $60 per night)
Best Western Plus The Ivywall Hotel (starts at P4,000 / $80 per night)
Astoria Palawan (starts at P6,100 / $122 per night)         
If you prefer staying near the Underground River in Sabang, we recommend these:
Sheridan Beach Resort & Spa (starts at P4,400 / $88 per night)
Daluyon Beach and Mountain Resort (starts at P10,500 / $210 per night)
Where to Eat in Puerto Princesa
The food selections in Puerto Princesa are as diverse as the city itself. Here are some of the best restaurants near the Underground River:
Eightnine Cafe Palawan (Continental, vegan, vegetarian)
The Smoky Place (European, pizza)
Hen House American BBQ and Smoke Pit (American)
NomNom Comfort Food (Filipino, fusion)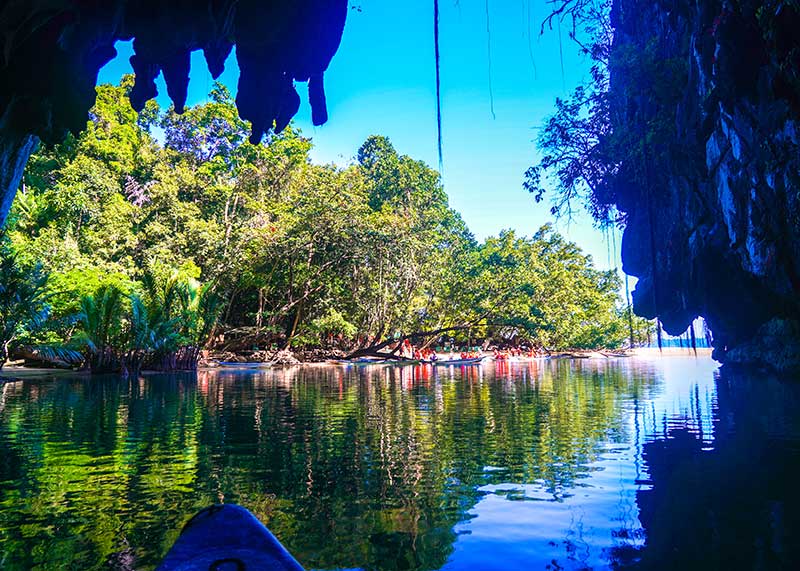 The Puerto Princesa Underground River
Now for the main attraction.
They say you haven't been to Puerto Princesa if you haven't been to the Underground River. Going here definitely sets the mood for your Palawan holiday before heading off to El Nido and Coron.
Officially known as the Puerto Princesa Subterranean River, it is a protected area managed by the local government.
Some of its many distinctions include being a UNESCO World Heritage Site since 1999 and one of the New7Wonders of Nature since 2012.
Located in the small village of Sabang, we highly recommend booking the Underground River Tour in advance as the local government limits the number of people visiting the area.
How to Book the Underground River Tour
The guided tour is a 'bundle' of other activities that you can do in Puerto Princesa, but the highlight is, of course, the Underground River itself.
Choose from several travel agencies accredited by the Department of Tourism:
Corazon Travel & Tours
Baron Travel Day Tours
World Holiday Travel and Tours
RATE:
Starts at P2,500 per person
INCLUSIONS:
Guided tour (45-min underground river tour)
Hotel pickup and dropoff
Tourist van
Lunch buffet
Fees (permits, entrance fee, environmental fee)
Licensed tour guide
Boat transfers
Note that this is a whole-day activity (usually 8 hours). The trip from your hotel in Puerto Princesa to Sabang takes 2 hours and vice-versa.
Tip: Download the Klook app and check Underground River tour deals every now and then.
You can 'upgrade' your tour package if you want side tours near the Underground River. We suggest checking with the agency first to confirm what's available.
Other Attractions Near the Underground River
You can stay for at least one more day in Sabang if you want to explore other nearby attractions. For convenience, simply request the tour agency to include side tours in your itinerary. Note that they may charge extra for personalizing your itinerary.
You can do the Underground River Tour for one whole day, then try these recommended side tours in the next couple of days:
Ugong Rock Caves (P500-P600 / $10-$12)
Inside these mysterious caves are fascinating structures. Expect a lot of walking, climbing, and spelunking—so it's not for the faint of heart.
Arguably the most popular side tour, it's an exhilarating yet heartwarming experience. Far from a commercialized attraction, it's a community-based sustainable project. When visiting Ugong Rock Caves, you're helping the local community.
Sabang X Zipline (P550 / $11)
A zipline over the sea? This is a must-try for thrill-seekers.
This experience will give you a bird's eye view of Sabang Beach—800 meters of it! You'll walk from the beach to the top, and the staff will brief you on the safety precautions. It might be a little terrifying right before you do the activity—donning the harnesses and all—but you'll forget about it once you see how beautiful the view is from your perspective.
Mangrove Paddle Tour (P300 / $6)
If you want to kill time before the Underground River Tour, or still have a couple of hours to spare right before you head on to your next destination, try the Mangrove Paddle Tour.
This guided tour is more laid-back than the Ugong Rock Caves and the Sabang X Zipline—all you have to do is sit back and enjoy the view. You'll see various species of lizards, monkeys, snakes, and mudskippers lurking within the mangroves while the tour guide narrates the interesting history behind the place. This is perfect if you have older children traveling with you.
From Puerto Princesa to El Nido
After the Underground River, what's next?
We suggest going straight to El Nido from Sabang.
You can arrange for the tour agency to drop you off at Sabang Intersection. From here, take the shuttle van going to El Nido. The entire land trip will take around 6 hours.
RATE (shuttle van):
starts at P500 / $5 per person
The trip is not the most comfortable, but traveling by land from Sabang to El Nido is currently the only option.
However, if you're willing to spend more for comfort and convenience, you can book an exclusive tourist van on top of an El Nido tour package. There's more space, and you can make brief stops along the way.
RATE (exclusive van):
Starts at P7,500 per tourist van (seats up to 9 people)
After El Nido, Coron is one more paradise that's worth visiting.
There are fast ferries (also called fastcrafts) that regularly travel every day. The entire ferry ride to Coron will take around 3-4 hours.
To get to the smaller, more secluded Coron Island, get on a small pump boat. The ride will take about 20 minutes.
RATE (fastcraft):
Starts at P1,800 / $36 per person (one way)
We do recommend booking a tour guide or agency to facilitate the transfers.
Bring enough cash in Philippine Peso. Withdraw cash while you're in Puerto Princesa. ATMs may be limited or non-existent in farther areas.
Visit Palawan during the dry season (February to May). Avoid going during the typhoon season (June to December).
Bring a mosquito repellent. Palawan has a higher risk of malaria than other provinces in the country. Don't forget to bring your basic medicine kit, too.
Bring appropriate hiking shoes.
Overall, your Puerto Princesa trip may sound overwhelming, but the stop-overs and connecting boat rides are what make it a true adventure.
The wonders don't stop at Puerto Princesa, too. Remember that it's your instant gateway to other paradises—El Nido and Coron—that will make your holiday truly unforgettable.
Are you ready to start planning your Puerto Princesa trip?