The Philippines has some of the world's most spectacular beaches, but you don't have to hop from one island to another.
While Cebu may not get the same attention like that of more popular provinces in the Philippines, you won't regret coming to the Queen City of the South and its many beautiful beaches.
To make your tropical holiday more convenient and worthwhile,  we came up with the 8 best beaches of Cebu and clustered those near one another. In this way, you can plot your itinerary or choose what's best according to your preference and budget.
If you don't like traveling far, Mactan has awesome beach resorts. There are not many public beaches in Mactan, but there are several wonderful resorts offering exceptional services.
One of the earliest beach resorts in Mactan, and arguably still the best. With over 530 rooms, delicious food options, and a wide array of sports and recreational activities, staying at this 5-star resort is worth every buck.
RATES:
Start at P10,200 / $204 per night
Things to do
SHANGRI-LA MARINE SANCTUARY: Measuring six hectares from the shore, Shangri-La's very own marine sanctuary is home to hundreds of fish, corals, and clams. Did you know that two ships were intentionally sunk in 2007 to encourage marine life proliferation in the rea? Now, the sanctuary is teeming with a diverse marine ecosystem.
SCUBA DIVING: Shangri-La's has its own dive center, Scotty's Dive Center, with the marine sanctuary serving as the resort's dive site. Diving rates start at P3696 / $71 per person.
WATER ACTIVITIES: Available from 9AM – 5PM daily, you can choose from a variety of watersports such as jet skiing, kayaking, parasailing, windsurfing, waterskiing, and sea trekking (underwater helmet diving).
With over 250 rooms, you can stay at any of their 'villas' that directly face the ocean—plus your very own private pool. With child-friendly facilities and superb staff, Crimson is highly recommended for families.
RATES:
Start at P9,000 / 184 (per night)
Things to do
WATER SPORTS: Crimson offers a water sports package inclusive of parasailing, jet-skiing, banana boat, and a relaxing massage for P13,858 / $267 ++ (for two). A cheaper package inclusive of jet-skiing, kayaking, and frantic tube ride is also available for P6,630  / $128 ++ (for two).
ISLAND HOPPING: If you're traveling in a group, you can avail of the excursion package to Nalusuan Island or Pandanon Island—exclusive for Crimson guests. This is inclusive of boodle lunch (the local practice of eating with your hands), drinks, entrance fees, snorkeling gear, and towels. Rate starts at P4,000 / $80 per person for a boat, and P10,800 / $215 per person for a yacht.
SUNSET CRUISE: Best done in a large group, the luxurious sunset cruise takes you along the Hilutungan Channel in a private yacht, complete with canapes, champagne, and towels. Rate is P8,200 / $84 (per person, minimum of 10 persons).
Getting there
TRAVEL DISTANCE: Mactan is about 14 km from Cebu City. But if you're coming from Mactan-Cebu International Airport, the journey will only take 10-15 minutes to the beach resort of your choice.
TAXI/GRABCAR: Tell the taxi driver to drop you off at Shangri-La's, Crimson, or any resort in Mactan. You can also hail a Grabcar—just enter the name of the resort, and wait for your Grab driver to pick you up.
TRANSPORT COST:
Starts at P150 / $3
Most of Cebu's best beaches are found farther from the city, but they're all worth the extra mile.
Going down south without traveling too far, you'll reach Aloguinsan, a small town with an interesting history. The Aloguinsan ancestors were known for their bravery and vigilance. When Muslim pirates sailed ashore during WWI, women, children, and the elderly hid far away as men fired cannons until all the invaders were dead.
You may think that Aloguinsan is just a little town, but there's more to this
Getting here may not be a smooth journey (expect rough and rocky roads under the scorching heat), but you'll forget all about it once you reach Hermit's Cove. The whole beachfront is covered in white sand, with several cottages sprawled under palm trees.
RATE:
P100 / $2 per person (entrance fee + free use of cottages)
Things To Do
WATCH THE SUNSET: Hermit's Cove is pretty laid-back and unassuming. Since Aloguinsan is located at the southwest coast of Cebu, viewing the sunset at this part of the world is beyond words. The resort closes at 5PM, but staying just until the sun sets is a nice way to end the day.
BOJO RIVER CRUISE: If you can't go to Palawan or Bohol for a river tour, you can do the very same at Aloguinsan. The Bojo River Cruise is unique because the local fishermen tell you a brief history of the town and give you a glimpse of the ecosystem surrounding the river. Women and little girls serve native cuisine and weave native souvenirs.
The entire cruise takes 3 hours to complete. Rates start at P400 / $8 per person (walk-in rate), and P650 / $13 per person (package rate inclusive of meals and complementary freebies, minimum of 5 persons).
Staying in Aloguinsan
Hermit's Cove only accepts day visitors, but you can spend the night at:
Curbada dela Maria Resort: starts at P1,000 / $20 per night
Lunhaw Farm Resort: starts at P4,000 / $80 per night
Getting there
TRAVEL DISTANCE: Aloguinsan is approximately 56 km to the southwest of Cebu City. Travel time will take 2 hours.
BUS: From the South Bus Terminal, hop on any mini-bus bound for Pinamungajan. Tell the driver or conductor to drop you off at The Farmhouse in Aloguinsan.  Ride a habal-habal to either Hermit's Cove or Bojo River.
TRANSPORT COSTS:
P80 / $1.50 (mini-bus, one-way)
P50 / $1 (habal-habal, per head)
Moalboal has some of the most captivating diving sites in Cebu, known for its dazzling blue beaches and diverse marine life. Over the years, Moalboal has been one of the busiest provinces in the south, where a lot of expats now reside.
You can't get enough of islands when you're in Cebu. At the very least, make a quick stop to Pescador Island if you visit Moalboal. There's no beach on the island as it's mainly a diving/snorkeling site. On the west side though, there's an open-top underwater cave known as 'The Cathedral', where a lot of pro divers frequent.
Tip: Check the weather before you sail to Pescador Island. The waters are known to have strong currents any may pose some risk.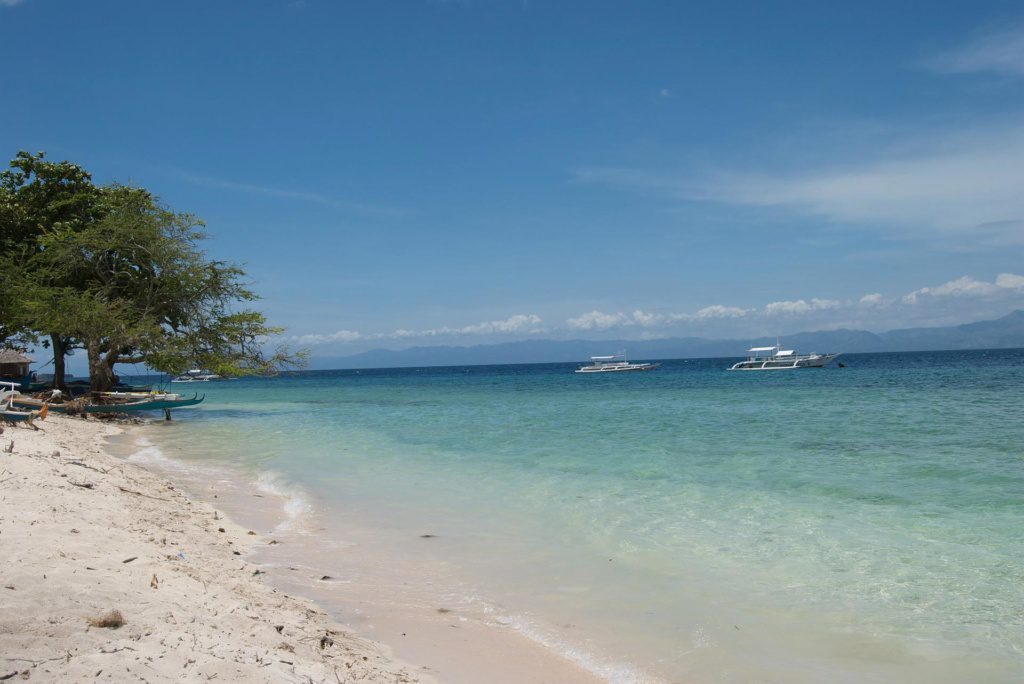 Also called Basdiot Beach, it is one of the main beach areas of Moalboal open to the public. It's also leisure and convenience in one beautiful beach. Inns, hostels, restaurants, cafes, bars, souvenir stores, and diving shops are all here.
Things To Do
SNORKELING/DIVING: Recreational diving is the main tourist activity in Moalboal. Renting a boat with the captain is the norm, which will take you to Pescador Island and other diving sites in Moalboal. Snorkeling rates start at P2,000 / $40 per boat (up to six people). Diving rates start at P3,500 / $70 per person.
SARDINE RUN: Also called as 'bait ball', the sardine run is basically a gigantic school of sardines that group together to protect themselves from predators. What's so astonishing is that they clump together to form a smooth, almost perfect wall-like formation. Imagine you're snorkeling or freediving nearby—you literally get lost in-between the thousands of sardines swimming fast.
It's a crazy and beautiful experience of a lifetime, and that's not even an exaggeration! If you're in Panagsama, you've come to the right place to swim with sardines. And you don't even have to pay anything—the sardine run is absolutely free!
FOOD TRIP: Panagsama can be like Boracay in some aspects, and the food environment is one of them. The presence of foreign expats transformed the food culture in Moalboal into a diverse hotpot. Here are some of the restaurants and cafes worth trying:
Ven'z Kitchen (Filipino, Asian)
Kugita Seafood and Charcoal Grill (Japanese)
Mayas Native Garden Restaurant (Mexican, Filipino)
The Three Bears (American)
Mayim Beach Bar (Pizza, cocktails, beer)
Smooth Cafe Moalboal (Coffee, tea, pastries)
CANYONEERING: Moalboal is one of the bases for canyoneering, a popular activity that usually starts at the next town, Badian. You can book with several tour agencies along Panagsama Beach or Basdaku Beach.
Staying in Moalboal
Accommodation is generally not an issue in Moalboal (except during peak season), but we recommend staying here:
Quo Vadis Dive Resort: starts at P2160 / $43 per night
Marcosas Cottage Resort: starts at P2,560 / $51 per night
Cabana Beach Club Resort: starts at P3000 / $60 per night
Getting there
TRAVEL DISTANCE: Moalboal is approximately 86 km to the southwest of Cebu City. Travel time will take 3 hours.
BUS: From the South Bus Terminal, hop on any bus bound for Bato via Barili. Tell the driver or conductor to drop you off at Gaisano Grand Mall or the Moalboal Municipal Hall. Take a tricycle or habal-habal to get to Panagsama Beach. From here, you can rent a pump boat (motorized outrigger canoe) to take you to Pescador Island.
TRANSPORT COSTS:
P120 / $1.5 (bus, one-way)
P30 / $0.50 (habal-habal, per head)
P2000 / $40 (pump boat to Pescador Island, up to 8 persons)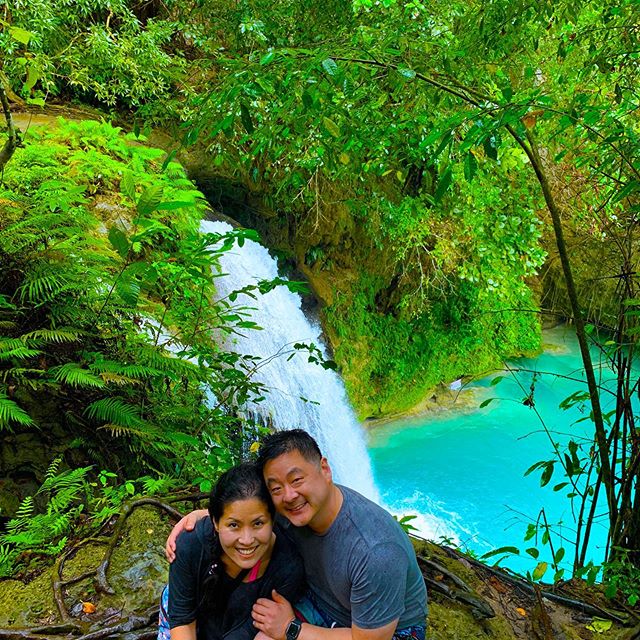 Badian is widely known for canyoneering and the world-famous Kawasan Falls. But it's got a best-kept secret that, to this day, doesn't fail to impress those who happen to stumble into it.
There's an unspoiled beachfront in Lambug that gives its visitors a magnificent view of the sky and the Tañon Strait. The tranquility of Lambug Beach contrasts the liveliness of Kawasan Falls.
Turquoise waters, fine white sand, and coconut trees—locals say it's the 'Little Boracay of Cebu', and that's saying something. Being a public beach, it's modest, clean, and hasn't undergone much commercialization.
RATES:
No entrance fee!
P50 / $1 (weekday tent fee, per person)
P150 / $3 (weekend tent fee, per person)
P500 /$10 per day (cottage fee)
Tip: Lambug Beach is managed by the local government of Lambug, Badian. Other than the 'No Entrance Fee' perk, they charge very affordable rates for tents and cottages. The local government enjoins all tourists to always ask for a receipt from the collector when paying.
Things To Do
BEACH BUMMING: There's not much to do in Lambug Beach itself, but if you just want to unwind and rest—then this is the place to go. You can take a picnic, sunbathe, or read a book—no one can ever disturb your moment of peace in this small paradise.
CANYONEERING: Once you've had your dose of relaxation, you can simply head off to Kawasan Falls to jumpstart your canyoneering experience. Located in the nearby town of Matutinao, the habal-habal driver can take you to the starting point of the canyoneering activity.
PICNIC: Lambug Beach is secluded, but buying food and drinks is not too inconvenient. Several small convenience stores sell the basics. You can set up a tent, spread a blanket, or sit directly on the sand as you eat and drink.
Staying in Badian
There are no rooms in Lambug Beach, as it is a public beach. We recommend booking any of these nearby accommodations instead:
Lambug Beach Homestay: starts at P500 / $10 per night
Grandeur Beach Resort: starts at P1000 /$20 per night
Badian Island Wellness Resort: starts P7,500 /$145 per night
Getting there
TRAVEL DISTANCE: Lambug Beach in Badian is approximately 100 km to the southwest of Cebu City. Travel time will take 3.5 hours.
BUS: From the South Bus Terminal, hop on any bus bound for Bato via Barili. Tell the driver or conductor to drop you off at Lambug. Take a tricycle or habal-habal to get to the beach premises.
COSTS:
P170 / $3 (bus, one-way)
P30 / $0.50 (habal-habal, per head)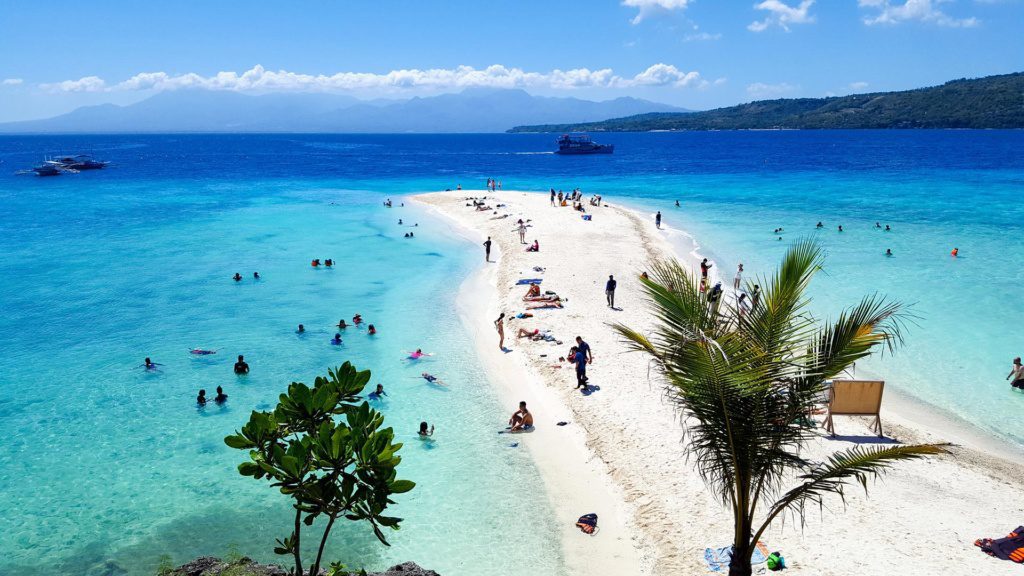 Oslob has a lot to offer. Other than whale sharks and Tumalog Falls, there's another gem that's worth the extra boat ride.
Sumilon Island, a 24-hectare coral island just off the southeastern tip of Bancogon, Oslob, was carefully developed to host the luxurious Sumilon Bluewater Island Resort. It holds the distinction of being the first marine protected area in the Philippines, eventually being declared as a fish sanctuary in 1974.
And yes, a fish sanctuary means that it is a spectacular snorkeling site! Other than that, there's a myriad of fun activities you can do—alone, with friends, or as a family.
Things To Do
There's so much to do in Sumilon Island, but we'll start with what you can do at the public area of the island.
SANDBAR: Arguably the island's highlight, the sandbar is a private paradise of its own. Come here just before sunset, when you can enjoy the stunning view. Unfortunately, during high tides, the sandbar will be fully submerged.
SNORKELING: As a fish sanctuary, life underwater is an amazing sight. You can rent snorkeling gear for P50 / $1 (life vests come free) from the locals. Do this early—preferably before midday—as most tourists flock to Sumilon Island at noontime after their whale shark watching activity.
Now for the exclusive activities. Bluewater Sumilon Island Resort may be expensive, but the fees are reasonably priced considering the quality of their services and amenities. Here are what we recommend the most:
INFINITY POOL: Before most hotels in Cebu started making infinity pools, Bluewater Sumilon Island Resort already had one. Exclusive for check-in guests, it's a small pool that gives you a breathtaking view of the sea.
TREKKING: The resort offers guided hike tours at 10AM and 2PM. The trek takes 45 minutes – 1 hour to complete. The terrain is mostly rough, so wear proper trekking shoes or durable footwear. If you wish to trek without a guide, the receptionist must be informed. There are directional signages along the trail to guide you.
KAYAKING & FISHING: Sumilon Island also has its own lagoon. Calm and serene, you can explore this area by riding on a kayak to wade through high mangroves. You can also stop for a while to fish.
DIVING: As a marine sanctuary with 4 major dive sites, expect crystal-clear visibility, colorful reefs, and thousands of marine species that make for an unforgettable dive. For beginners, you can learn how to dive from a PADI-certified diving instructor. Rates start at P5,000 / $100, inclusive of boat rental and divemaster fee.
SPA: There's nothing like a relaxing massage to end a jam-packed day. The resort has its own spa that offers traditional Filipino massage using native and locally-sourced materials. You can get a massage in-room or at the beachfront. Rates start at P800 / $14.
Staying in Sumilon Island
The only accommodation is with Bluewater Sumilon Island Resort. It's exclusive, expensive, but definitely worth it.
RATES:
start at P8,200 / $157 per night (for two persons)
Inclusions:
Comfortable beds
Toilet with hot and cold shower
Wi-Fi
Flat-screen TV
Round-trip boat transfer
Breakfast for two
If you want a fun twist to the typical room, try glamping (glamorous camping). Think spacious tents, soft beds, a personal butler, plus the experience of enjoying the sea and sky in full view!
RATES:
P14,500 / $277 per night (for two persons)
Inclusions:
Overnight accommodation in a glamping tent with air-cooling unit
Breakfast, lunch, and dinner
In-tent snack bar
Round-trip boat transfer
The day tour isn't so bad, either. You can do a lot of activities in just one day at Sumilon Island, but we recommend booking the tour in advance.
DAY TOUR RATES:
P2500 / $48 per person, on all days including holidays
Children: Half-rate for 6-11 years old, Free for 0-5 years old
Inclusions:
Free roundtrip boat transfers
Free use of parking space at the mainland (for tourist vehicles or private cars)
Welcome drinks
Lunch buffet with complimentary drink
Complimentary use of mask, snorkel, beach towel
Complimentary use of swimming pool, lagoon, beach, and shower rooms
Complimentary use of sunbeds, kiddie park, and payag (hut)
Complimentary activities (trekking, kayaking, fishing at the lagoon, fish-feeding, pedal boating)
Getting there
TRAVEL DISTANCE: Sumilon Island in Oslob is approximately 130 km to the southeast of Cebu City. Travel time on the road will take 3.5 hours. The boat ride from mainland Oslob to Sumilon Island will take 7-10 minutes.
BUS + BOAT: From the South Bus Terminal, hop on any bus bound for Bato-Oslob. Tell the driver or conductor to drop you off at Bluewater Sumilon Island Resort Port in Bancogon.
TRANSPORT COSTS:
P170 / $3 (bus, one-way)
P1500 / $30 (boat, roundtrip, for 5 persons)*
P50 / $1 (environmental fee)*
P20 / $0.40 (comfort room fee)*
*not applicable for resort guests
Tip: We recommend booking the resort's day tour package or stay there for a few nights to explore the island. You don't have to pay for the boat fare, too!
Otherwise, you may split the P1500 boat fare (which is good for 5 passengers) with other non-resort tourists. Simply wait for the boat to be fully occupied. There is a regular boat schedule from 8AM – 5PM daily.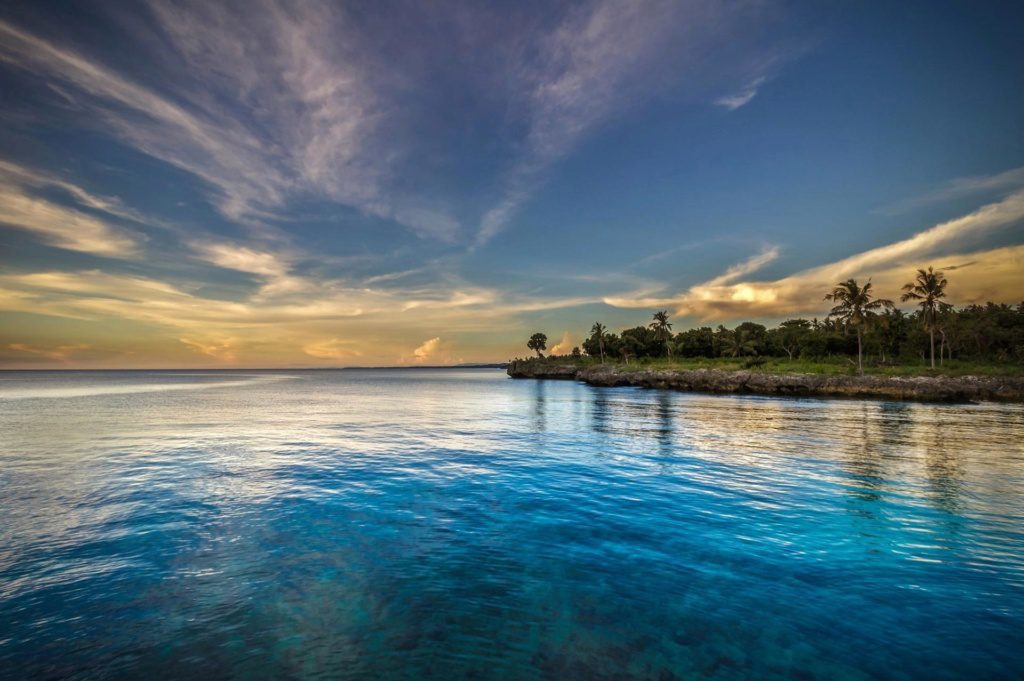 Going up north, there's a group of islands located off the northeastern coast of Cebu that is known for their powder-white sand and clear-blue waters.
Since Camotes is not very far from Cebu City, this would make a perfect day tour or as a side trip while en route to a nearby destination.
Tulang Diot is one of the most underrated beaches in Camotes. Measuring only about 1.6 by 0.6 km, Tulang Diot is almost fully covered by coconut trees, while the residential area is confined at the southern part of the island. Only about 8% of the entire area is inhabited.
RATES:
P10 / $0.20 (environmental fee)
P500 / $5 (cottage fee)
P150 / $3 (table rental fee + 4 chairs)
The long stretch of white sand is inviting. As the most frequently visited public beach in Camotes, there are plenty of nearby stores in Santiago White Beach that sell cheap and tasty food. Eat and drink while you stroll, swim, or watch the sunrise.
RATES:
What rates? No entrance fee!
Things To Do
Unlike Sumilon Island, there are not many structured activities for tourists in Camotes, especially Tulang Diot—but the island offers a more laid-back kind of fun:
BOATING: You can rent a pump boat for P1000 / $20, inclusive of fuel charge. You'll reach different areas of the sea. When the tide is low, the captain will be happy to take you to the sandbar.
SNORKELING/SCUBA DIVING: The west area of the island is swarmed by different kinds of fish. The coral reefs are also undisturbed, which is perfect for snorkeling and free-diving. Bring the proper gear since you won't be able to rent goggles or fins on the island. If you're scuba diving, make sure you're fully trained.
BEACH SPORTS: Play frisbee, volleyball, tug-of-war, or just about any activity you can think of. If you're in Tulang Diot where it rarely gets crowded, you'll probably have the entire beachfront to yourself.  You might want to invite locals, too!
Staying in Camotes
Tulang Diot is a very small island with little commercial development, and Santiago White Beach is a public beach area. There are no rooms or hotels at either beach.
After calling it a day, we recommend spending the night (or two) at San Francisco, Camotes, where most tourist accommodations are located:
Swisslagoon: starts at P2,200 / $45 per night
Camotes Flying Fish Resort: starts at P2,200 / $45 per night
Santiago Bay Garden and Resort: starts at P2500 / $50 per night
Getting to Camotes Islands
TRAVEL DISTANCE: Camotes is approximately 70 km to the north of Cebu City. Travel time on the road will take about 2 hours. The ferry ride to Camotes will take 1.5-2 hours.
You have 2 options to get to Camotes:
(1) From Danao
BUS + FERRY: From the North Bus Terminal, hop on any north-bound bus. Tell the driver or conductor to drop you off at Danao Port. Take the ferry bound for Consuelo Port at San Francisco, Camotes (2-hour ferry ride).
(2) From Mactan
TAXI/CAR + FAST CRAFT: Take a taxi to Mactan Wharf at Island Central Mall (or enter Mactan Wharf when traveling by Grabcar). Take the fast craft bound for Consuelo Port at San Francisco, Camotes (1.5-hour ferry ride).
If going to Santiago White Beach: Take a habal-habal from Consuelo Port.
If going to Tulang Daku: Take a habal-habal from Consuelo Port. Finally, take the small boat bound for Tulang Diot.
TRANSPORT COSTS:
P50 / $1 (bus, one-way, to Danao)
P220 / $4 (ferry, one-way, from Danao Port)
P30 / $0.30 (terminal fee)
Starts at P200 / $4 (taxi/Grabcar to Mactan Wharf)
P500 / $5 (ferry, one-way, from Mactan Wharf)
P100 / $2 (habal-habal to Santiago White Beach/Tulang Daku, per head)
P10 / $0.20 (boat to Tulang Diot, one-way)
Tips: Unless you're near Danao, we recommend traveling via fast craft from the Mactan Wharf. It's more expensive, but it's a faster and more convenient ride especially if you're coming from Cebu City or Mactan.
You can buy tickets on the day at designated booths. You can also book online with Jomalia Shipping, the only shipping line servicing routes from Danao/Mactan to Camotes and vice-versa.
They have a regular daily schedule but is often subject to change during the rainy season (August to December). To avoid delays or cancelations, we recommend going to Camotes during the summer months (March to June).
When super typhoon Haiyan struck the Philippines in 2013, Malapascua IslandP210 / $4 was almost entirely wiped out. But it's amazing how nature rehabilitated itself and how the community rebuilt itself after the disaster.
Even with this tragic misfortune, it's moving to see how Malapascua Island remains to be a paradise to this day. Some of the best shorelines in Malapascua include:
Unofficially the island's main beach, Bounty Beach has the right mix of peacefulness and fun. You can go for a leisurely swim or just take a nap under the palm trees—then head straight to the nearest bar for a bottle of beer.
Since Malapascua is a diving paradise (with Bounty Beach as the capital), it can be somewhat packed during peak season.
RATES
No entrance fee!
Go straight to Langub Beach if you want to steer clear from the crowd.
Getting to Langub Beach, which is right at the northern part of Malapascua Island, may seem like a long trip from Malapascua proper, but you'll forget about it once you actually see how beautiful it is. Even pictures don't do it justice!
RATES
As a public beach like Bounty, visiting Langub is absolutely free!
Things To Do
While you're in Malapascua, we suggest staying here for a couple of days. Malapascua is often compared to Boracay for its hip, lively vibe at night while still retaining the tranquility in most areas.
SNORKELING: Remember that Malapascua Island is a snorkeling and diving wonderland with over 20 diving sites! In Langub Beach where the entire island is virtually untouched, you'll see quite a lot of marine life and huge coral reefs. Make sure to bring your own gear when snorkeling here.
SCUBA DIVING: The Monad Shoal in Malapascua Island is a renowned diving site and one of the best in the world. Thresher sharks, a species of harmless sharks with dolphin-like behaviors, frequent this area. Logon Beach is also a popular starting point to dive. If you're new to scuba diving, this is also a good site to learn. Scuba diving lessons start at P19,000 / $380 per person inclusive of boat fee and diving equipment.
CLIFF JUMPING: Jump at your own risk! Although not strongly recommended by tour guides, thrill-seeking daredevils will truly enjoy this experience at Los Bamboos Beach (P25 / $0.50 entrance fee). Definitely not for the faint-hearted!
ISLAND TOUR: Since it's a small island, you can tour the entire area in a day. You can negotiate with any habal-habal driver for a day's worth of sightseeing (starts at P700 / $14). Start the day watching the sunrise, visit the historic lighthouse, or hop from one beach to another.
HAPPY HOUR: Bounty Beach, arguably the island's most popular public beach, has plenty of resorts, restaurants, bars, and small stores. This is the most convenient area on the island to sleep, eat, drink, and shop.
Staying in Malapascua
As public beaches, you can't spend the night at Langub or Bounty Beach. We do recommend staying at nearby resorts instead:
Celtis Resort: starts at P700 / $14 per night
Hippocampus Resort: starts at P1,400 / $28 per night
Malapascua Thresher Cove Dive Resort: starts at P1,500 / $30 per night (best place to stay if you're scuba diving!)
Getting to Malapascua Island
TRAVEL DISTANCE: Malapascua is approximately 120 km to the north of Cebu City. Travel time on the road will take about 4 hours. The boat ride to Malapascua Island will take 45 minutes.
BUS + BOAT: From the North Bus Terminal, hop on any bus bound for Maya. Tell the driver or conductor to drop you off near Maya Port. You can walk to the port or take a habal-habal (P20 / $0.40), then ride the boat bound for Malapascua Island. Take another habal-habal to get to Bounty Beach or Langub Beach.
TRANSPORT COSTS:
P210 / $4 (bus, one-way)
P100 / $2 (boat, one-way)
P100 / $2 (habal-habal, per person)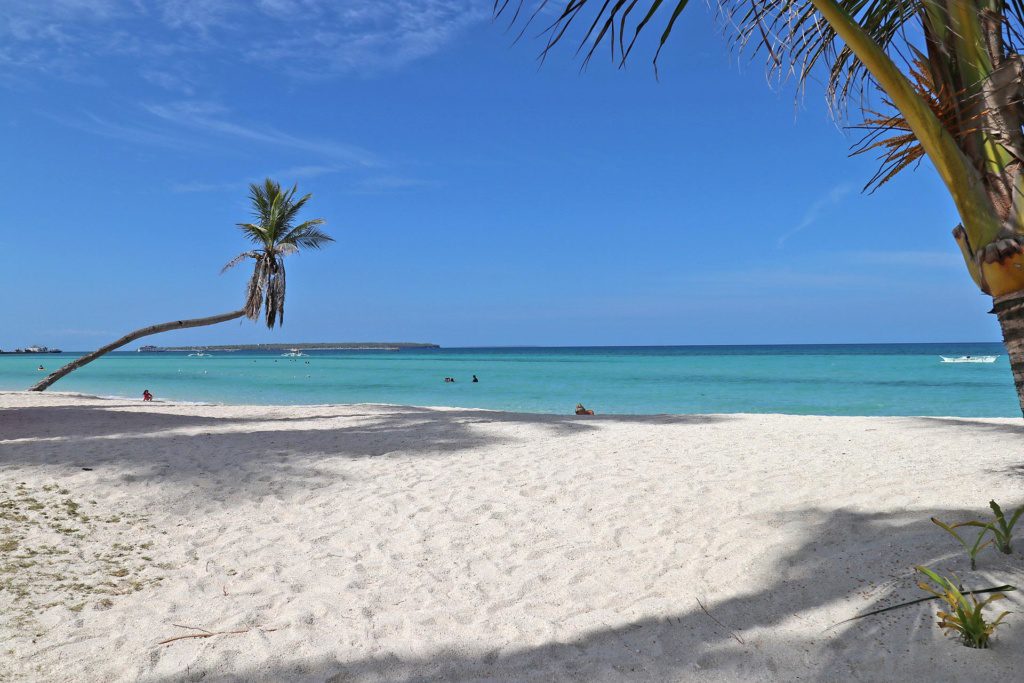 Bantayan Island is located at the northernmost point of Cebu, and no other beach in the entire province can rival its beauty. Tourists will forget about the long trip to Bantayan once they see how breathtaking it is.
Just like its neighbor Malapascua, super typhoon Haiyan left Bantayan Island in pretty bad shape, resulting in loss of lives and properties. But just like Malapascua, Bantayan slowly rebuilt itself to still deserve the top spot as Cebu's best beach.
Santa Fe in Bantayan Island is known for its captivating shorelines, fresh seafood, and distinct culture. It would be regrettable to miss out any of these, so we recommend staying here for at least 3 days. Many locals and tourists even label Santa Fe as Boracay's closest rival—that's how splendid it is.
Located at the eastern part of the island, Santa Fe has the best beaches so we don't recommend going elsewhere. Everything you need is right in Santa Fe! We recommend visiting the following:
Secluded and serene, this is the place to go for an afternoon picnic or a lazy stroll along the shore. Also known as Sandira Beach, it is open to the public from 9AM to 5PM only. There are no cottages or rooms, so it's best to bring your own food, drinks, and picnic mats.
RATES:
P50 / $1 (entrance fee, half-rate for children)
Santa Fe Beach Club
If you want convenience and a little bit of luxury, head to Santa Fe Beach Club. The resort is facing the beach, so you'll have the best view of the sunrise here. There's a swimming pool, restaurant, bar, and a 24/7 concierge service.
RATES:
Starts at P2000 / $40 (per night)
Things to do
Before anything else, know that the best means to get around Santa Fe is by habal-habal (start at P50 / $1 per destination).
However, this may be too costly when you're hopping from one place to another. We recommend renting a motorbike (starts at P300 / $6), which you can use for 24 hours! Imagine driving a bike to any point in Santa Fe at any time of the day (or night). There are no specific shops that offer this service, so you just have to ask around. Locals will be happy to help.
Once you get your motorbike, here are some of the activities you shouldn't miss out:
RESORT HOPPING: Santa Fe is bustling with beach resorts—and for a good reason. Unless you're a resort guest, some of them may charge entrance fees, but they are worth the additional expense. Visit the mini sandbar at Kota Beach (P50 / $1), the Ogtong Cave at Santa Fe Beach Club (P200 / P $4), and the magnificent rock formations at Paradise Beach Resort (P50 / $1). And while you're at it, don't forget to watch the sunrise at any of these resorts.
ISLAND HOPPING: How does the idea of hopping from one island to another appeal to you? It sure does for everyone, and even local tourists love this activity! You can negotiate with the pump boat owner/driver (starts at P1000 / $20 per day) to take you to Hilantaagan Island and Virgin Island. While Hilantaagan is free, the privately owned Virgin Island charges an entrance fee of P500 / $10 for the first 2 persons, and P100 / $2 for the next person.
NIGHTLIFE: Although there are no nightclubs in Bantayan Island, Santa Fe has plenty of bars if you'd like a drink or two. Liquido Cocktails and Spirits, Kanimambo, and Miscala Bar are some of the hippest bars in Santa Fe. Even beach resorts also have a fair selection of cocktails and wines.
FOOD-TRIPPING: Being an island, Bantayan is predominantly a fishing territory, and most of the local subsistence comes from fishing. In fact, they supply several of mainland Cebu's seafood demands—and even export their harvest to the rest of the world. You'll get the freshest, tastiest seafood (literally from sea to table!) cooked in different ways. Other native must-tries include puto balanghoy (steamed cassava cake) and their own version of lechon (fire-roasted suckling pig).
One of the best things about Santa Fe is the wide selection of food choices. Other than Filipino cuisine, many restaurants and cafes in Santa Fe also cater to different tastes:
Bantayan Burrito Company (Mexican, Central American)
Baia Spaghetteria (Italian, European, Mediterranean
Thai-Phoon (Thai, Asian)
Shake Me (Mediterranean, Tropical)
Sarapoi (American, Indian, Asian)
Giordano's Bakeshop (Coffee, Bread, Pastries)
Tip: There are no diving sites in Bantayan Island. Malapascua Island remains to be the diving mecca of Cebu. Fortunately, these two islands are not so far from each other. It's easy to get to Malapascua from Bantayan (or vice-versa). From Bantayan Island, just go back to mainland Cebu and take the bus bound for Maya. If you're renting a tourist vehicle, the driver will know where to drop you off.
It's best to travel to Bantayan Island during the dry months (January – May) when it rarely rains. If you're not into crowds, don't go during Holy Week (2nd week of April). Hotel rates also increase twice their regular rates during this time.
If you want to partake in the culture of Bantayanons, coming in this busy time will be a different experience. Locals have a peculiar way of celebrating Holy Week. While the rest of the country fasts and avoids eating meat, they eat as much lechon as they can. This is one of the many interesting things about Bantayan which, for some reason, always attracts tourists.
Staying in Santa Fe
One of the best things about Bantayan is that there are plenty of decent accommodations to choose from. Other than Santa Fe Beach Club, here are other beach resorts with really good value for money:
Sunshine Bantayan Garden Resort: starts at P1,000 / $20 per night
Beach Placid Resort, Restaurant & Bar: starts at P1,900 / $37 per night
Anika Island Resort: starts at P2,000 / $40 per night
Kota Beach Resort: starts at P2,300 / $45 per night
Getting to Santa Fe
TRAVEL DISTANCE: Bantayan Island is approximately 140 km to the north of Cebu City. Travel time on the road will take about 4.5 hours. The ferry ride to Bantayan Island will take 1 hour.
BUS + FERRY: From the North Bus Terminal, hop on any bus bound for Hagnaya. Tell the driver or conductor to drop you off at the Hagnaya Port. Take the ferry bound for  Santa Fe, Bantayan Island.
From there, take a habal-habal to take you to the beach resort of your choice.
TRANSPORT COSTS:
P300 / $6 (bus, one-way)
P185 / $4 (ferry, one-way)
P10 / $0.20 (terminal fee)
If you're traveling in a group or with kids in tow, we recommend renting a tourist van/car instead. In this way, you can visit 2 or more beaches and other nearby attractions without much hassle.For instance, you can stay in Sumilon Island for a few nights, go to Badian to try canyoneering, then spend the rest of the day at Lambug Beach to relax. Or if you're mainly staying in Moalboal, you can make a day tour to Aloguinsan sometime in between.If you're traveling north, you can stay in Bantayan Island for up to a week, then in between your holiday, you can make a day trip to Malapascua Island to scuba-dive.If most of your itinerary is concentrated in Cebu City and you haven't got much time left, you can go to Mactan or Camotes Islands for a day.

It all depends on your itinerary. When traveling by tourist van/car offered by travel agencies or car rental providers, the package is inclusive of a professional driver, waiting time, and fuel charge. You can make custom arrangements depending on your itinerary.

RATES for tourist vehicle:
Starts P4,000 / $77 (one-way)
Starts P5,000 / $96 (round-trip)

Always, always bring cash in Philippine Peso—preferably smaller bills and coins. Except for Mactan, all these beaches are located in islands and far provinces, so you won't see any banks or even ATMs.
Bring food, water, and medicines. Although you may come across a store or cafe, it's best to bring your own water bottle and something to munch on. And don't forget the basic medicines: for fever, diarrhea, colds, cough, and allergies.
Always check the weather forecast before your trip. Avoid going during the rainy months (June-December). As most boats that travel to and from the islands are small, the coast guard will definitely cancel trips during heavy rainfall and typhoons.
There's nothing like a gorgeous stretch of white sand that makes the perfect backdrop for a tropical holiday, and these Top 8 beaches in Cebu don't disappoint at all.
Santa Fe has always been a favorite among tourists—the beach is beautiful beyond words, the people are warm and welcoming, the food is delectable, the island is generally safe and convenient. There's something about this gem that makes tourists want to come back.
Which of these 8 best beaches in Cebu will you try first